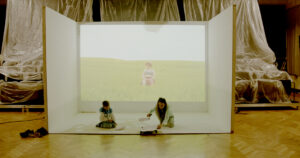 At the beginning of May, four of Hooligan Art Community's core team from Kyiv (including co-founder and performer Mirra Zhuchkova and video artist Liubov Sliusareva) were joined by four guest Ukrainian artists in an 11-day residency at the dance space Ponderosa (Stolzenhagen) in Germany. The residency was facilitated by Hooligan Art Community co-founder and director Peter Cant (UK) and movement director Mathis Kleinschnittger (DE). The artist group worked in parallel with two founding members of the company who participated online from Kyiv. The residency period offered space and time for Ukrainian artists to recover their creative tools and build a group connection, as each artist dealt with the impact of Russian aggression taking place in Ukraine.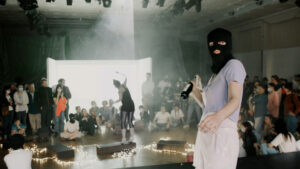 The team travelled to WUK Theater Quartier in Halle (Saale), Germany, where Peter Cant, Mathis Kleinschnittger and vocal leader Jessie Maryon Davies (UK) facilitated the creation of a new performance, based on Hooligan Art Community's "Hooligan" performance, which was reimagined for the new conditions, themes and artists involved. A central part of the work was the participation of a community chorus of 15 Ukrainian refugees and local German residents, with whom an original site-specific performance was devised, with music and dance, over twelve intense days. The work included remote participation from the two male artists in Kyiv, Danylo Shramenko and Semen Kyslyi, who participated in and led workshops, and appeared in the performance on television screens.
The result was "Hooligan: Bizhenka", an extraordinary evening of music-theatre at the WUK Theater Quartier on 25th May 2022, attended by 120 audience members.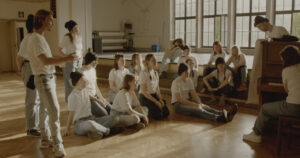 Artists: Semion Kyslyi, Yulia Linnik, Matilda Marina, Danylo Shramenko, Daria Veshtak, Sofia Yevmina, Mirra Zhuchkova;
Director: Peter Cant;
Musical director: Jessie Maryon Davies;
Lighting designer: Nataliya Perechyshena;
Video artist: Liubov Sliusareva;
Costume designer: Pavlo Kuraskin;
Interpreter: Vladyslava Yezlovetska.
In collaboration with a community chorus of people from Ukraine and Germany: Daria Kvietkina, Lisa-Marie Halwax, Kateryna Sokolova, Nastya Sokolova, Luisa Mackrodt, Ivan Prodanyk, Teresa Finke, Yevheniia Maksimova, Elisabeth Hacker, Mikhail Achkinazi, Lucifer Gudzon, AnnieK Röseler, Victoria Uvarova, Ada Biljan.