During six weeks in July and August 2022, Katia Iakovlenko and Jonny Turnbull, Sofia Cheliak and Kris Michalowicz, Olena Kozar and Phoebe Page have been working in cross-cultural writing pairs on their creative nonfiction pieces.
Focus: Environment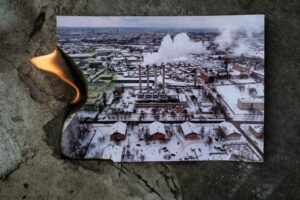 Mstyslav Chernov, An aerial view on the centre of Kharkiv, Ukraine's second-largest city, 29 January, 2022. Visual interpretation for Ukraine Lab
Kateryna Iakovlenko's 'Black, White, and Colourless' tells the story of the war-ravaged industrial region in the east of the country through the elements that shaped it: coal, salt, and gas.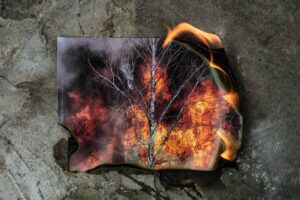 Mstyslav Chernov, Fire burns at a factory after a Russian attack in the outskirts of Kharkiv, Ukraine, 15 April 2022. Visual interpretation for Ukraine Lab
Jonathon Turnbull's 'The Kyiv Thickets' drifts through the wild and weird green spaces in Ukraine's capital that are brimming with political potential.
Focus: War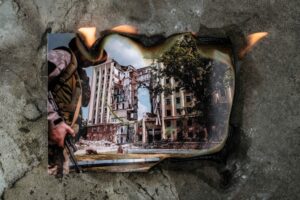 Mstyslav Chernov, A Ukrainian serviceman in front of the destroyed headquarters of the Mykolaiv regional military administration in southern Ukraine after a Russian strike. 5 August 2022. Visual interpretation for Ukraine Lab, September 2022
Describing the first days of the full-scale invasion, Sofia Cheliak's 'Ukrainian Lottery' takes a look at those surprising Ukrainians who reject the ready-made model of victimhood and resist the enemy with a sense of humour and purpose.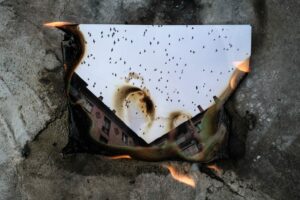 Mstyslav Chernov, Birds fly over the residential building in Kostyantynivka, eastern Ukraine, 8 February 2022. Visual interpretation for Ukraine Lab, September 2022
Kris Michalowicz's moving essay 'Luhansk, Stolen' reminds us that Russia's war of aggression did not start on 24 February 2022 but has been raging on for eight years.
Focus: Disinformation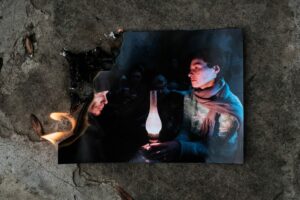 Mstyslav Chernov, Mariupol residents, 6 March 2022. Visual interpretation of Ukraine Lab pieces, September 2022
Set in an underground garage and at the receiving end of life-changing news during the battle for Kyiv, Olena Kozar's essay 'How Do You Know?' is a poignant reflection on the effects of information overflow.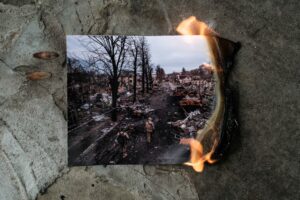 Mstyslav Chernov, Destroyed city of Bucha, Kyiv region, Ukraine. 6 April 2022. Visual interpretation of Ukraine Lab pieces, September 2022
Exposing how our attention and emotions are manipulated, Phoebe Page's piece 'On Which Side?' calls on the western audiences to discern Ukrainian voices amidst the noise of Russian propaganda.
The powerful visual interpretations are by Mstyslav Chernov and bilingual translations are by Nina Murray.
Ukraine Lab was curated by Sasha Dovzhyk.
Ukraine Lab seminar leaders: Olesya Khromeychuk (war), Tamara Hundorova (environment), Peter Pomeranzev (disinformation), Julia Bell (creative nonfiction), David Savill (empathy), Iryna Shuvalova (on writing on Ukraine from beyond its borders), Khobir Wiseman-Goldstein (psychodynamic workshop).
The programme received 104 applications from exceptional writers at the start of their careers and at the peak of their commitment to explore Ukraine through the art of storytelling.
Ukraine Lab was implemented by the Ukrainian Institute London in partnership with PEN Ukraine and supported by the British Council and the Ukrainian Institute as part of the UK/UA Season of Culture.