They ask, "what can we do for each other" and "what does it mean to be free".
r u there? we r here was originally a performance that took place in 2021, made over zoom with a director in the UK and a team of young artists in Mariupol, Ukraine. It was a search for connection in a time of distance. r u there? we r here… (2023) is still a call for connection, but now, more than ever, it is a call to be acknowledged.
This installation explores themes of war, loss and gender based violence through words, images and movement. It was presented at Deptford Lounge in July 2023 and made available online.
In 2021, Josie Dale-Jones was a theatre maker and director in residence with Center of Contemporary Art DAKH & Teatromania (Mariupol, Ukraine) for the British Council's Taking The Stage Programme. Following the creation of r u there? we r here… (2021), she continues to work with Center of Contemporary Art DAKH & Teatromania alongside SOUNDS LiKE CHAOS & the Albany for the UK/Ukraine Season, 'Future Reimagined', a collaboration between The British Council and the Ukrainian Institute.
This event was presented as part of Out of Harm's Way, a festival of new performances, research and artworks.
Online artworks
Below, the artists who participated in the project introduce themselves and their works.
Lyashenko Eduard, 25 y.o
Born in Mariupol, now live in Finland.
In Mariupol I played in the theatre and started my career as a photographer. Now I work at a small industrial plant.
Safety for me is a sense of peace for the near future. Safety is about the internal state, not the external environment.
My project is a mirror of my memories of home and one of my last days there.
Nataliia Zablotska, 25 y.o
I grew up in the Ukrainian city Mariupol, now I have asylum in the Czech Republic.
In Mariupol, I played in the theatre and worked as a choreographer. In the Czech Republic I continue my dancing career.
For me, safety is the feeling that you are not alone, both on an emotional and physical level.
My artwork is precisely about how lonely and incomprehensible I sometimes feel here in a foreign country, which shapes my sense of unsafety.
Mariia Boyko, 20 y.o
Born and raised in Mariupol, now live in Dnipro, Ukraine.
I am an actress and currently work in the theatre.
Since 24 February 2022, I have had to experience what real danger is, so the question of safety is now a major one for me. In my opinion, a person's safety is created by habits that they can return to when they feel unsafe and anxious.
My work is connected with those habits that help me to hold on and feel safe all this time.
Cleo Thompson 24 y.o
I grew up in South East London and have lived around London. I am currently working as a musician and visual artist.
Over the last 3 years my concept of home has changed a lot and I currently working on cultivating a sense of home within myself. For me, safety is a feeling of being grounded, secure and happy.
My piece is an installation emulating a living room setting.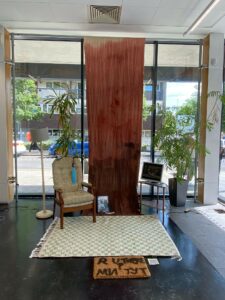 Ines Yearwood-Sanchez 21 y.o
Born in Spain, raised in London.
I am a multidisciplinary artist based in London, my work focuses on race, identity and culture.
Safety is anywhere that you call home, where you feel comfortable to be your authentic self, to love and be loved.
My project explores safety through body language within different types of relationships.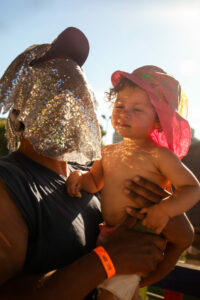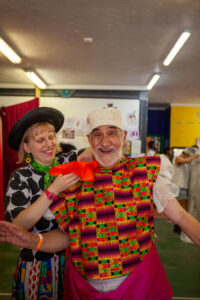 Christine Bramwell 26 y.o
Born in Jamaica, raised in New Cross LDN.
For me, safety is my right to roam the land freely, without fear.
My project explores safety through the lens of abundance in nature.
Christine's artwork was only available to experience in person.