Taking place over the next seven months, the pilot project will see six leaders and decision makers from the Ukrainian arts sector visit and stay at arts organisations across Scotland.  A bespoke programme will be created for each participant, offering them time away from turmoil and a chance to reflect and think to the future for their own artistic practices, their organisations, and the wider art sector in Ukraine. 
The residencies will be based in creative organisations across the country, leading in arts, literature, sculpture, and music. The organisations hosting participants for the project are: Cove Park, Moniack Mhor, Hospitalfield, North Lands Creative, and Edinburgh Sculpture Workshop. 
Each residency has been designed to provide valuable time and thinking-space allowing participants to develop their work, take advantage of facilities, workshops, events, and to link-up with Scottish-based creatives to build lasting connections across the creative sector in the UK. 
Coming from a range of artistic disciplines, participants are leaders in the arts sector in Ukraine having worked in fields including festival creation, visual arts, design, literature, and music. 
The project has been born of out of a Creative Scotland and British Council partnership and as a key legacy project for the UK/Ukraine Season of Culture's Future Reimaged programme. The UK/Ukraine Season of Culture was launched by the British Council and the Ukrainian Institute in 2022 to mark 30 years of UK/Ukraine diplomatic relations. Through a year-long programme of activity, the season has served as a platform for cultural exchange, artistic expression, and cooperation, bringing together a community of artists from Ukraine and the UK.
Find out more about each residency and participant: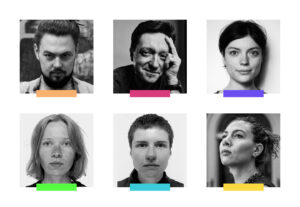 Cove Park – Veronika Skliarova
Cove Park is an international artists residency centre on Scotland's west coast whose residencies support the development of new work by national and international artists, groups and organisations working in all art forms
Veronika Skliarova is a cultural manager, theatre producer, and art curator. She is the program director of the "Parade-fest" (Kharkiv), producer of "Сrimea, 5am" (intersectoral performative project) and Ukrainian Odyssey (performances in 5 cities of Ukraine). After February 2022, Veronika created Anthology24 – collection and publication of texts for theatre written after the start of the full-scale invasion, and "Art therapy force" – large-scale educational project aimed at reorienting the educational programs of creative universities in Ukraine towards the certification of art therapists and the direct work of artists with Ukrainian children, IDPs, veterans.
Hospitalfield – Kateryna Rusetska
An arts centre located in Abroath, Hospitalfield is dedicated to contemporary art and ideas. 
Kateryna Rusetska is a co-founder and program curator of the Dnipro Center for Contemporary Culture (DCCC), NGO Kultura Medialna, experimental music and contemporary art festival Construction. She focuses on creating visual, educational programs, community interactions, and projects related to activism.
During the residency at Hospitalfield, she will reflect on her individual and collective practice to identify a more detailed, meaningful, and effective approach toward interaction with local communities and urban space. Kateryna will also formulate ideas for a comparative and intersectional approach to the (re)construction of Ukraine, which she is thinking about as part of her role in DCCC and which will be explored in a series of workshops to be held in Dnipro fall 2023.
Moniack Mhor – Ostap Slyvynsky
Moniack Mhor is Scotland's National Writing Centre, based in the Scottish Highlands.
Ostap Slyvynsky is a Ukrainian poet, translator, essayist and scholar. He authored five books of poetry and "A War Vocabulary", a documentary book about the Russian aggression against Ukraine. His books have been published in Germany, Poland, Czech Republic, Bulgaria, Slovakia, and Macedonia. Ostap was the first program director of the International Literary Festival in Lviv in 2006–2007. In 2016–2018, he organized the public discussion platform Stories of Otherness (a series of public interviews with writers, intellectualists and civic activists who suffered from different kinds of social exclusion). Since 2021, he has organised the PEN Ukraine's festival Propysy (The Writings) aimed at novice authors. He was elected the Vice President of PEN Ukraine in 2022.
Edinburgh Sculpture Workshop – EtchingRoom1
Located in Newhaven, Edinburgh Sculpture provides support to artists in different ways, including a year-round programme of residencies.
EtchingRoom1 is the artistic group founded in 2016 by two graphic artists Kristina Yarosh and Anna Khodkova in Kyiv, Ukraine. The artists utlise etching techniques and create mosaics and installations.
Kristina Yarosh graduated from the Publishing and Printing Institute of the National Technical University of Ukraine "Igor Sikorsky Kyiv Polytechnic Institute", from the department of book graphics.
Anna Khodkova graduated from the National Academy of Fine Arts and Architecture in 2016. She works with techniques of etching, linseed, silkscreen, monotypes, and collages. 
North Lands Creatives – Ruslan Luchko
North Lands Creative is a studio organisation and gallery in Lybster, Caithness with a focus on contemporary glass.
Ruslan Luchko lives and works in Lviv. In 2015, he graduated from Stryi Art School (Department of Painting). In 2020, he obtained his MA degree at the Glass Art Department at Lviv National Academy of Arts. Ruslan prefers painting and glass in his art, and often refers to other artistic practices such as performance, media art, and installation. His work is based on the ideas of determinism and human freedom.