The British Council will host a week-long international arts and cultural programme to mark the 25th Anniversary of the Belfast/ Good Friday Agreement. This will focus on the role of arts in divided and polarised societies.
As part of the UK/UA Season of Culture, the Ukrainian delegation will participate in the programme activities during the week of 17-21 April 2023 following the historic 25th Anniversary. Three practitioners well known to the Ukrainian culture and creative sectors make up the delegation – Olena Honcharuk, Alina Khanbabaieva, and Yuliia Manukian. 
Overall, 33 delegates from 10 countries (including from Colombia, Viet Nam, Lebanon, Iraq and Ukraine) will discover how artists and creative organisations have played a key role in Northern Ireland's post-conflict journey and to connect with arts professionals from other countries and contexts to share their experience.
The focus of the week will be to engage with and learn about those working in Northern Ireland's creative and cultural sectors and take part in talks, workshops, exhibition openings and tours about socially engaged arts practice, and international collaboration.
The programme follows on from the British Council's Peace and Beyond Conference, which was held in 2018 to mark the 20th anniversary of the Agreement.
UKRAINIAN DELEGATION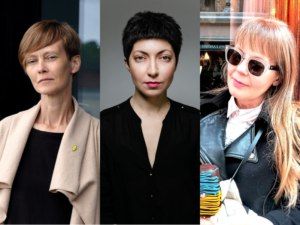 Olena Honcharuk is the acting director of the Oleksandr Dovzhenko National Centre – Ukrainian state film archive in Kyiv, Ukraine. She made a crucial shift in her career when she decided to quit commercial copywriting for museum work. Over the last 10 years, she has worked at two significant national institutions that care for cultural heritage and strive to be high-powered in the fields of senses and values. For the last 7 years, Olena has worked for the state film archive, evolving from a project manager to director, and being part of the process of institution formation.
Alina Khanbabaieva is the head of the Cultural Agency Ɐ NGO, a cultural project curator, and a music editor. Over the past 9 years, she has created large socio-cultural and educational projects and urban festivals, including the international Plan B Festival of Social Innovations and New Music and Music Day in Kharkiv (part of Fête de la Musique). Alina's work focuses on developing and supporting socio-cultural projects, creating networking and educational opportunities for creative and cultural specialists, using cultural events as a tool for stimulating social activity and cohesion, drawing attention to the issues of diverse population segments, and engaging communities in joint creation. She also works in media as a music editor for the Kharkiv radio station 'Nakypilo', which promotes Ukrainian music and culture, particularly in unoccupied territories.
Yuliia Manukian is a curator of art and urban projects at Urban Re-Public NGO in Kherson, Ukraine. The NGO focuses on protecting and promoting cultural heritage, modernist architecture, contemporary art, and urbanism. Yuliia is also a co-founder and editor of the platform 'Culture of Southern Ukraine: COYC', an art critic, and a contributor to various publications such as Prostranstvo Magazine, Korydor, LB Online, Your Art, and Guardian. She is also a co-curator of the Museum of Contemporary Art Kherson.
CONTEXT
10 April 2023 marks the 25th Anniversary (@GFA25) of the signing of the Belfast/Good Friday Agreement in Northern Ireland. It is an international agreement between the British and Irish governments, a multi-party agreement signed up to by the majority of Northern Ireland's political parties and approved by voters across the island of Ireland through two referendums in Northern Ireland and Ireland in 1998.
It continues to be the most significant development of the Northern Ireland Peace Process and is held as an international model of peacebuilding which is recognised across the world where complex issues and divergent identities can progress on the basis of power-sharing, mutual respect and the acceptance of civil and political rights.
As a result of the Agreement, many positive changes have taken place in Northern Ireland and the importance and complexity of the Agreement twenty-five years on is evident. Throughout the past twenty-five years, the arts: artists, creative and cultural organisations, have worked against the backdrop of a society moving away from conflict, often playing an important role in engaging the public in difficult conversations and providing space for dialogue and inspiration in moving to a more peaceful, diverse, inclusive, and prosperous society.
The arts and the creative and cultural sectors of Northern Ireland continue to show us that artists, writers, musicians, curators, cultural institutions, festivals and cultural policy makers continue to reflect on issues and challenges in Northern Ireland's society and that a socially engaged practice reveals many unresolved issues in a society with a living memory of conflict but one that continues to centre the importance of creativity in building progress, equality, peace and opportunity.