"The story of past wars is powerless now. To survive, we need to start talking and imagining the future."
During the autumn of 2022, ten Ukrainian artists worked on new pieces using visual images, sound, and text. The lab hosted internal workshops and discussions among participants and curators. The general public could join lectures and meetings with experts exploring the impact of war through art, ecology, and information technology.
A conversation with curator and art critic Borys Filonenko about how artistic research can resist war and how the concepts of "land" and "territory" are reset during a full-scale invasion.
The artists addressed various issues in their works, from how to remember the Russian-Ukrainian war to what future memorials should look like, and analysed the sound experience of being in relatively safe cities during a full-scale invasion.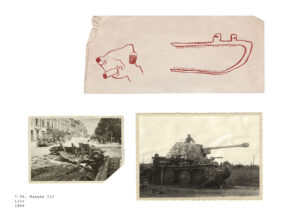 MICKEY MOUSE'S STEPPE. ARCHIVES (Daniil Revkovskyi and Andrii Rachynsky)
The lab's results are presented on a specially created online platform.
Lab participants: Piotr Armianovski, Asia Bazdyrieva, Kateryna Buchatska, Maksym Ivanov, Viktor Konstantinov, Andrii Rachynskyi and Daniil Revkovskyi, Kseniia Shcherbakova, Ivan Skoryna, Kseniia Yanus.

LAB TEAM
Curators — Natalka Revko, Oksana Dovgopolova, Kateryna Semenyuk
Manager — Valeriia Nasedkina
Communication manager — Kateryna Iholkina
Curators of the sound project — Glenn Boulter, Mort Drew, Timothy Maxymenko, Grant Smith, Sam Smith
Translator — Les Vynogradov
Design — Kultura Studio