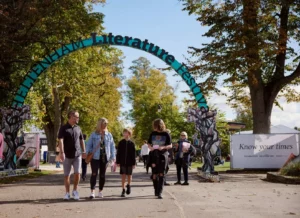 Photo: www.stillmovingmedia.com, Cheltenham Literature Festival
Five events amplified the voice of the Ukrainian culture
As part of the Ukraine Day programme, Ukrainian writers, musicians, poets and illustrators held a series of events to inform the attendees about the modern poetry, music and visual arts scene of Ukraine. With all events sold out, the speakers were met with standing ovations, which further highlighted the urgency of Ukrainian voices to be heard even more widely in the context of the ongoing war.
"​​The Kyiv Book Arsenal curated a dazzling programme for a special Ukraine Day on 11 October at the Cheltenham Literature Festival which presented many different facets of Ukraine's vibrant literary scene. The audiences at this, the UK's oldest literature festival, found new insights into contemporary Ukrainian literature – and children's book illustration! – but also compelling testimony from writers living and deeply implicated in these times of trial and defiance for their country. This collaboration between Kyiv Book Arsenal and the Festival took place within the framework of the UK/Ukraine Season, a celebration of cultural exchange which had been planned in partnership by the Ukrainian Institute and the British Council long before the February 2022 invasion but whose theme 'Future Reimagined' has taken on renewed and urgent relevance since then", – said David Codling, UK/Ukraine Season Director and Volodymyr Sheiko, Director General, Ukrainian Institute.
Literature, music, cinema, discussions, and a family workshop
Ukraine Day started with a conversation with renowned Ukrainian author Oksana Zabuzhko, moderated by British journalist Rosie Goldsmith. The interactive discussion offered fresh insights into how Oksana has been defending her country and its values through her writing and activism.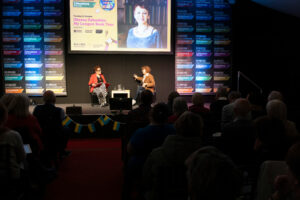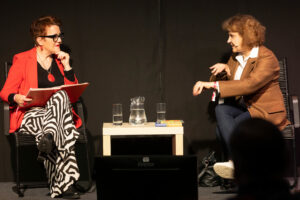 Photo: Jon Spaull
Oksana's session was followed by a panel discussion on 'When War Comes to Your Home' between Ukrainian poet Lyuba Yakimchuk and the director of the Ukrainian Institute in London, Olesya Khromeychuk. They spoke about the role of literature and poetry during the ongoing war, how the conflict has affected their creative thinking and how culture can respond to aggression.
Speaking during the discussion, Olesya Khromeychuk said: "The participation of Ukrainian authors at the Cheltenham Literary Festival and the festival's cooperation with the Ukrainian Book Arsenal demonstrate that the interest in Ukraine that appeared around the world because of the Russian war is now turning into a lasting relationship."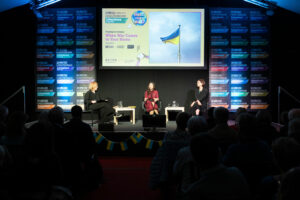 After the panel discussion, Ukrainian authors, designers and illustrators Andrii Lesiv and Romana Romanyshyn (Agrafka studio) hosted an art workshop for children and their parents. Under their supervision, children created and painted a canvas inspired by Agrafka's book 'How War Changed Rondo' – the book tells the story of Rondo city in which live fragile and vulnerable creatures, made of glass, paper or air balloons.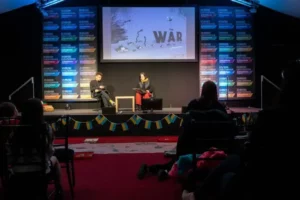 Beats that bite, rhymes that kill, poetry and music united as a weapon
Following the workshop, festival attendees saw a live music performance by Ukrainian musician and producer Yuriy Gurzhy, poets Grigory Semenchuk and Lyuba Yakimchuk and singer and writer Irena Karpa. They played soundtracks from their recent album 'Songs of Love and Hate', which seeks to tell the stories about what is happening in Ukraine during the war.  
 "Presenting Ukrainian Songs Of Love And Hate at the Cheltenham Literature Festival was an honour, but also a challenge for everyone involved in the project. While creating these songs, our goal was not only to find a language to talk about what Ukrainians had been going through lately but also make sure that this language is understood by those who are not necessarily following the events in Ukraine. Singing about flying missiles, people who lost their homes, describing what those sitting in a bomb shelter dream of – pop songs inspired by…a  war? Looking into the faces of people in the audience during our performance, hearing them singing along, seeing their reaction on October 11th made me believe we did a good job", said Yuriy Gurzhy, the music producer, arranger and composer.
Ahead of her performance, Irena Karpa said: "It seems like these songs are going viral. And the fact that mothers put Bavovna [trans: Cotton] to their children as a lullaby is the best assessment of our work."
Listen to the album here and read more about the project here.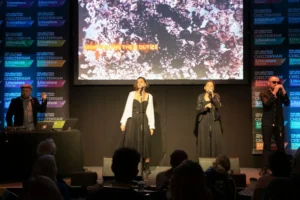 Photo: Jon Spaull
Ukraine Day concluded with a final event at Cheltenham's Everyman Theatre where Ukrainian visual culture researcher Kateryna Yakovenko spoke at the first UK screening of the film 'Bad Roads' by Ukrainian filmmaker Natalia Vorozhbit.